All About Tradies National Health Month
August each year is Australian Tradies National Health Month (TNHM), a campaign to bring awareness to tradies' health and encourage them to look after their wellbeing.
Australian tradies make 190 serious workers' compensation claims every day – three times the national average – according to a Safe Work Australia analysis of data from 2010-11 to 2014-15.
Tradies – classified as technicians and trade workers, labourers, machinery operators and drivers – represent 58 per cent of workers' compensation claims, despite making up only 30 per cent of the workforce.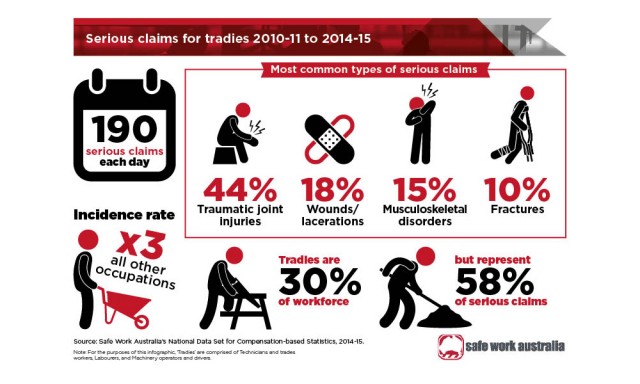 In a bid to drive awareness of, and encourage a healthy workplace and injury prevention or management, TNHM provide a number of resources across their website and social media channels.
Employers and tradies can access case studies, workplace posters and general advice on common workplace issues or injuries such as ankle sprains, knee injuries, hydration, mental health and workplace bullying.
The TNHM campaign, which is driven by the Australian Physiotherapist Association and Steel Blue Boots has successfully put tradies' health on the mainstream media agenda every August, sponsoring celebrities including comedian, Dave Hughes, cricket legend Dennis Lillee, and ex AFL stars Glen Jakovich and Glenn Archer.
Back Pain one Focus:
Back pain is one of the most common injuries suffered by tradies, with three million Australians – 14 per cent of the population – suffering from lower back pain, according to a 2015 report. It is most common in 30 to 39 year old males.
The report estimates indirect costs associated with lower back pain to be $8.15 billion due to lost earnings and productivity.
In a video for TNHM, Dennis Lillee discusses lower back pain and advises that when lifting you should reduce:
The speed of your lift
The distance you carry the onject
The distance the load is away from your body
The number of times you lift
The weight shape and size of the load
The need to lift below knee height or above shoulder height
He also advises to avoid twisting your body or bending your back while lifting and says lifting should be performed with a fluid motion.
Employers too have a responsibility to minimise the amount of awkward, heavy lifting performed by their workers. Read how Sydney-based company, Zetco Valves took the stress off workers' backs with a WHS overhaul, resulting in improved productivity, staff retention and multiple SafeWork Australia awards.
Tradies Health Social Competition:
Tradies National Health Month are running a social media competition until 30 August 2017, encouraging tradies to show their version of being 'physio fit'. Creativity is encouraged.
The best four photos will each win a Steel Blue voucher for a new pair of work boots.
To enter, posts must use the hashtags: #tradieshealth #choosephysio and #steelblueboots as well as tagging @physioaustralia and @steelblueboots 
Winners will be notified and announced September 1 on the APA and TNHM Facebook pages.
More info and the competition terms can be found here and a bunch of Tradies Health Month videos below. Stay stafe! 
Dave Hughes:
Glen Jakovich
Glenn Archer: