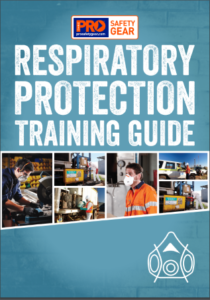 RESPIRATORY PROTECTION TRAINING GUIDE WHITE PAPER
Download ProChoice's complete guide to establishing a respiratory protection program. Detailed insight is provided into understanding respiratory protection equipment (RPE) and selecting appropriate RPE that adheres to standards, fits correctly and is maintained appropriately.
Information covered in the guide is outlined in the table of contents below.
SELECTING THE RIGHT RPE
Types of Respiratory Devices
Factors in the Selection of RPE Device
Factors in the Selection of RPE Devices: Contaminant
Factors in the Selection of RPE Devices: Task
Factors in the Selection of RPE Devices: Operator
Factors in the Selection of RPE Devices: Equipment Limitations
ENSURING EQUIPMENT AND FILTERS CONFORM TO THE STANDARDS
Classification of Filters
Particulate Filters
Gas Filters
ENSURING PROPER FIT
Mandatory Facial Fit Tests
Frequency of Facial Fit Tests
Facial Hair
Fit Test Methods
Facial Fit Checks
MAINTAINING AND STORING YOUR RPE
Regular Inspections and Maintenance
Replacement of Filters
Particulate Filter Life Cycle
Gas Filter Life Cycle
Cleaning and Disinfecting Your RPE
Storing Your RPE
Signup Below to Download the White Paper